Certopus Workflow
How it works
01
Create a Free Account
Sign up for free to gain access to Certopus as well as 50 free certificate credits to try out the services.
02
Design your Certificates
Design certificates using our template engine, which includes a rich library of professionally designed certificates.
03
Issue Certificates
You can bulk generate high quality pdf and deliver the personalised certificates to the recipients in a few clicks!
04
Get Insights
Get insights on the performance of your certification campaign, and plan accordingly to garner the best audience response!
GET STARTED IN MINUTES
3 Main Reasons to Choose us.
We use industry standard protocols like IPFS and hashing algorithm HMAC-SHA256 to ensure that your certificates are tamper-resistant.
Certopus powers you to generate high-quality vectorised certificates in pdf format, ensuring that your certificates look highly professional.
You save time and money by generating certificates in bulk and delivering them in very minimal time , which can increase your company's productivity.
Feature Gallery
Why do organisations prefer Certopus
digital certificates?
Saves money
More affordable than physical certificates so that you can utilise your budget well.
Saves paper
Join this eco-friendly initiative and say no to physical certificates. We ensure that digital certificates bring you more value than their physical counterparts.
Prevents counterfeiting
Our tamper-resistant verification process checks for the integrity of data, so you don't have to worry about fake certificate rackets that devalues your certificates.
Saves time
Generate thousands of certificates and deliver them in very minimal time.
Increases the reach of Certificate Authority
Digital Certificates are easily accessible and are easy to share on social networks, which helps to increase the reach of your business.
Better availability
Recipients are guaranteed 99.9% uptime of their certificate records so that they can access whenever and wherever they need.
Provides better insights
You get the post-event analytics so you can better plan your future events.
No dependence on other tools
We have analysed the pain point of certification bodies that depend on different tools for different purposes. Certopus is an all-in-one certificate platform, solving this issue!
Integrations we provide
Certopus makes it easy to integrate with your existing learning management systems and applications using integration platforms. This means you can use Certopus without any disruptions or disruptions to your current processes. Whether you're using a popular LMS or a 3rd-party application, we've got you covered. You'll be up and running with Certopus in no time!
Design certificates
like a PRO .
With our template engine, you can design certificates like never before.
+

Countries trust Certopus
+

Organizations using Certopus
Ultimate features in one Application
All the features you need to manage your certification process at your fingertips.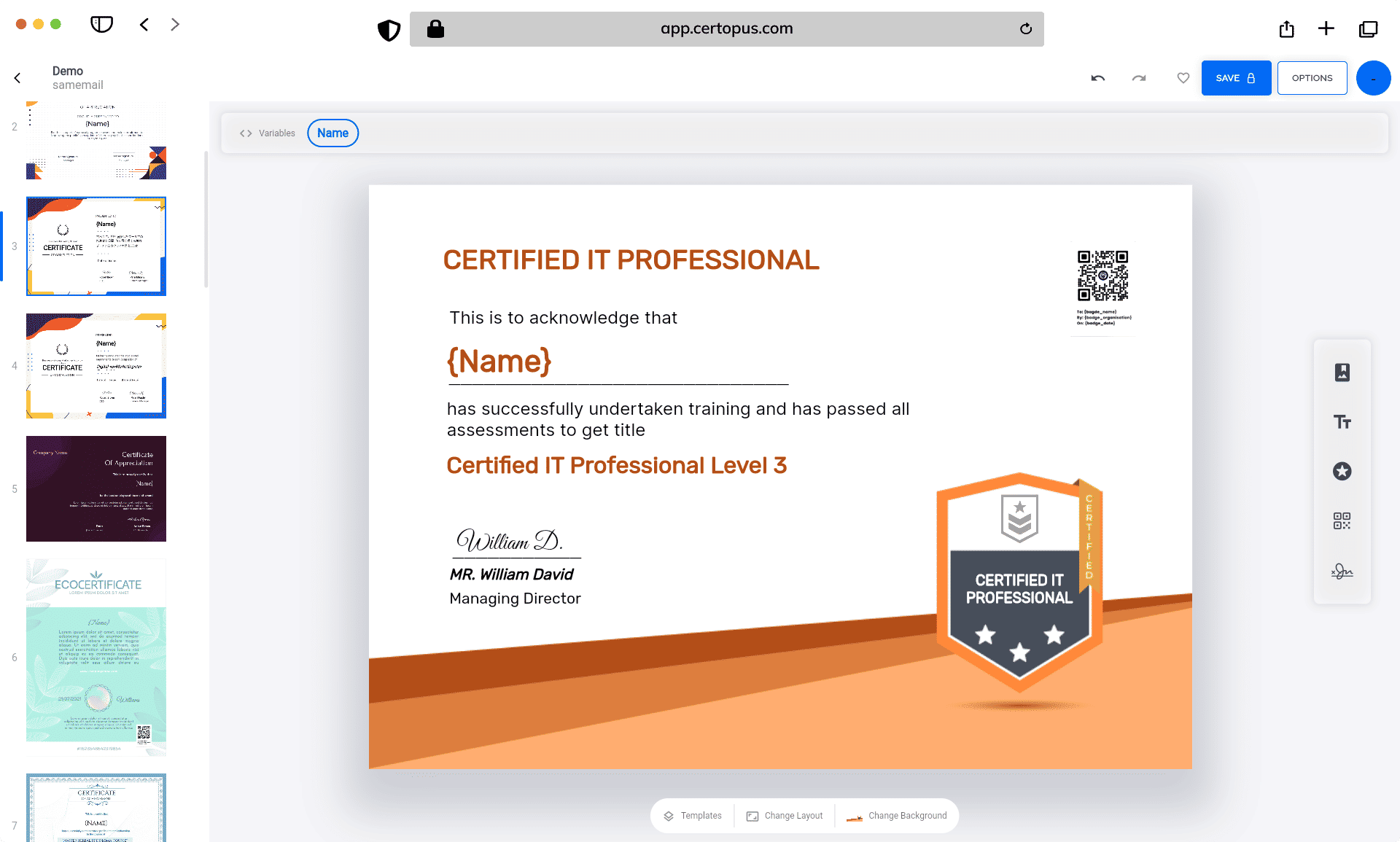 Competitive Pricing that empowers you!
Basic
Ideal for Micro businesses
250 Credentials
Verifiability Support
Premium Design Templates
Bulk Generation
Mass Mailing
Upto 2 Events per month
Sign Up Now
5O free Credential credits for trial provided
Standard
Ideal for Event Organizers
1250 Credentials
All from Basic
Email White Labelling
Upto 5 Events per month
Analytics
Priority Support
Sign Up Now
5O free Credential credits for trial provided
Professional
Ideal for Large Businesses
2500 Credentials
API Integrations
Premium Whitelabelling
Everything from Standard
Analytics
Upto 10 Events per month
Sign Up Now
5O free Credential credits for trial provided
Look what our clients have to says
I've been searching for an app like Certopus for years. As a teacher with thousands of students, I was paying someone to create individual certificates each week. Now I can just input excel file and I'm done. I love it and purchased it based on my student count.
Keith Graves,

Graves and Associates LLC.
I've been blown away by Certopus after testing it for a couple of days. It's easy to use and has a range of great templates. The founder is responsive and answered my data protection/GDPR questions. LinkedIn integration is great for promotions. I'm looking forward to using Certopus and recommend it.
Adrian Reed,

Blackmetric Business Solutions
I was searching for the right certification awarding solution for our online/blended learning ecosystem and found Certopus to be the perfect fit. It has a clean and modern user interface, and the first batch of certifications were issued smoothly.
Zia ul Mazafary,

COTHM Dubai